LATEST NEWS & PUBLICATIONS

UCARE.AI fosters a clinical ecosystem that relies on machine learning to automatically predict pre-admission costs.
UCARE.AI Press Release learn more…
SBR Technology Excellence Awards 2020 Press Release learn more… 
UCARE.AI ACCOUNTABLE AI GOVERNANCE PRACTICES FEATURED IN IMDA'S SECOND EDITION OF THE AI MODEL GOVERNANCE FRAMEWORK

Watch our Founder and CTO, Neal Liu interviewed by CNA regarding our Cost Predictor at Parkway Pantai, and deploying ML ethically and responsibly.

A compendium of use cases released by IMDA to demonstrate how local and international organisations implemented and aligned AI governance practices with the Model Framework. Read our case study, UCARE.AI: Accountable AI in Digital Healthcare on page 30.

Parkway Pantai and UCARE.AI unveils AI-powered predictive hospital bill estimation system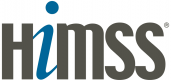 Parkway Pantai to offer fixed prices for certain medical procedures using AI-powered tool


UCARE.AI FOUNDER AND CTO, NEAL LIU RECOGNISED AS ONE OF ASEAN'S 50 MOST INNOVATIVE TECH LEADERS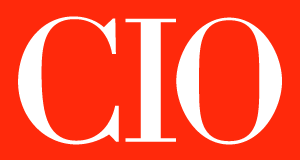 CIO50 – in association with IBM, honoured UCARE.AI Founder and CTO, Neal Liu for innovation and leadership in 2019. Moreover, Parkway Pantai Group CIO, Linus Tham has been recognised within the list for leveraging UCARE.AI's AI-Powered Cost Predictor.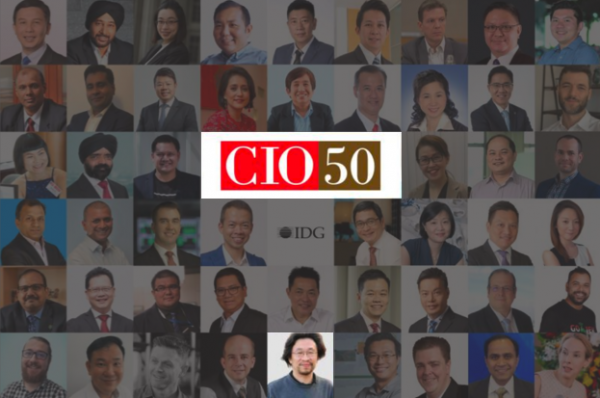 PARKWAY PANTAI WINS SG:D TECHBLAZER AWARD – BEST ADOPTION FOR UCARE.AI'S AI-POWERED COST PREDICTOR 

UCARE.AI's AI bill prediction engine has earned Parkway Pantai the Most Innovative Enterprise Techblazer Award by Singapore government agencies IMDA and SGTech!!!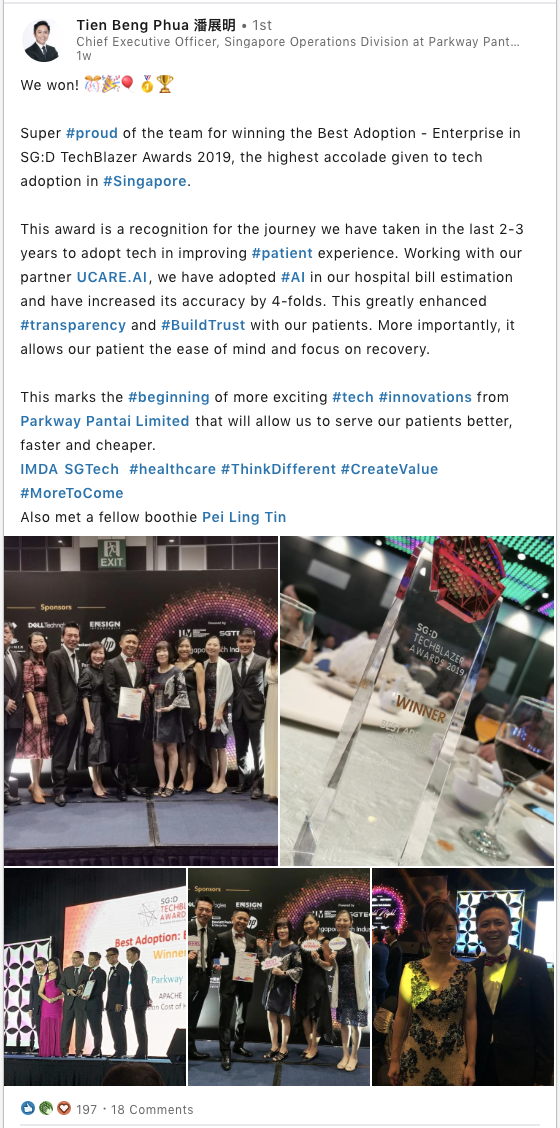 UCARE AMONGST TOP 20 DEEPTECH STARTUPS 2019

UCARE.AI EARNS 2019 ASIA-PACIFIC HEALTHCARE AI TECHNOLOGY INNOVATIVE AWARD BY FROST & SULLIVAN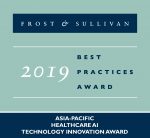 Frost & Sullivan awards UCARE.AI as the recipient of the 2019 Asia-Pacific Healthcare AI Technology Innovation Award
UCARE.AI'S FOUNDER & CTO, NEAL LIU COVER STORY FOR CIO ASEAN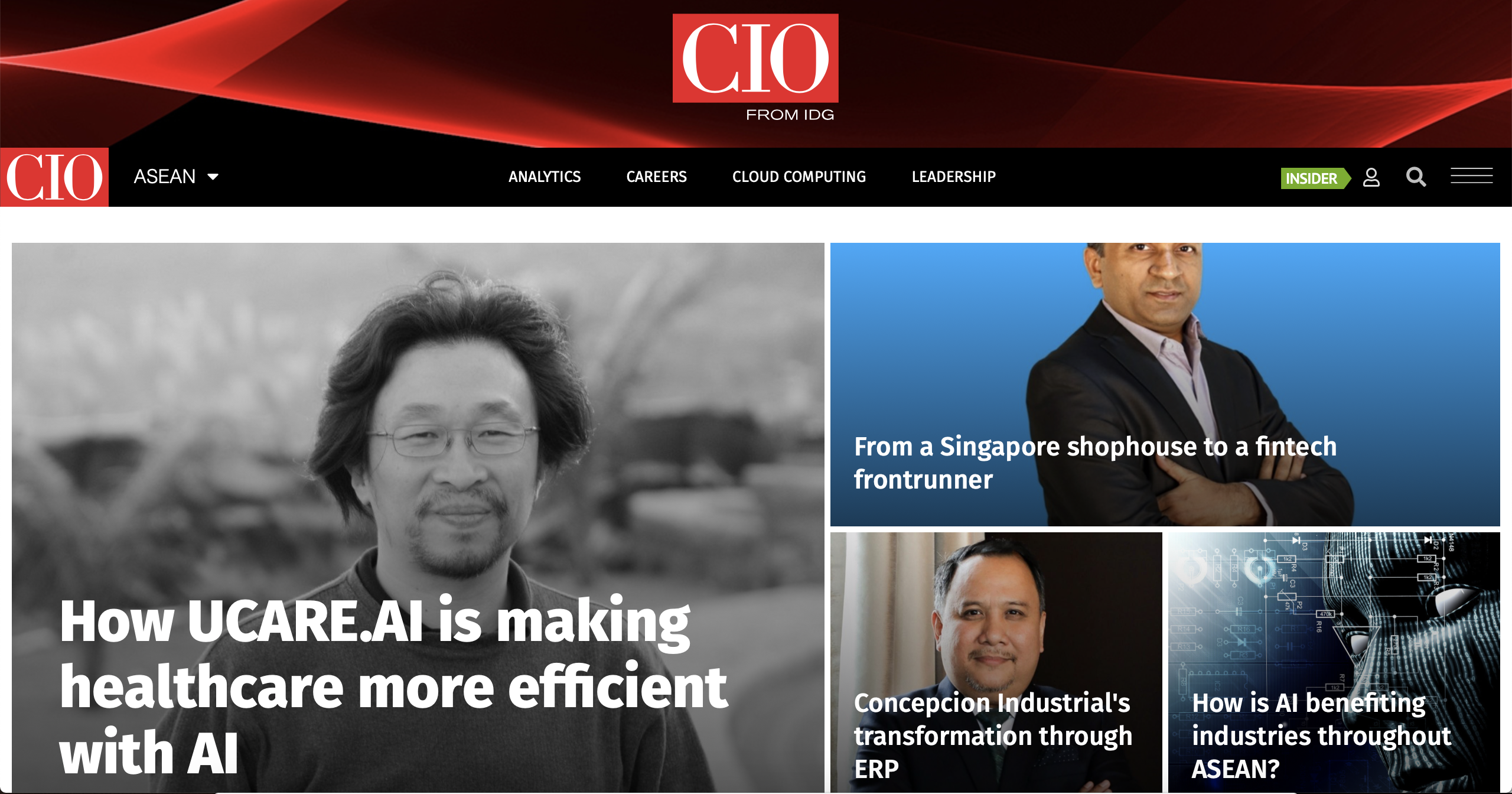 UCARE.AI FEATURED IN FINTECH'S LIST OF INSURTECH COMPANIES TACKLING AGING POPULATION


UCARE.AI ATTAINS ACCREDITED STATUS FOR IMDA'S GREEN LANE AND STAMP OF APPROVAL

UCARE.AI IS THE FIRST SUCCESSFUL USE CASE IN SINGAPORE'S PDPC AI GOVERNANCE FRAMEWORK



UCARE.AI AND PARKWAY PANTAI LAUNCH AI-POWERED PREDICTIVE HOSPITAL BILL ESTIMATION SYSTEM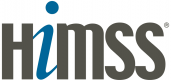 Parkway Pantai hospitals launch AI-powered predictive hospital bill estimation system in Singapore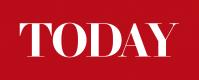 Parkway Pantai and UCARE.AI unveils AI-powered predictive hospital bill estimation system

AI HEALTHCARE STARTUP, UCARE.AI, SECURES $8.2M OF FUNDING




Singapore: AI healthcare startup UCARE.AI steps out of stealth mode with Series A funding 




UCARE raises Series A funding to bring its AI-powered predictive solutions into healthcare

If you have any enquiries, please send us an email or drop by our office.